Do you want to make carrying heavy objects easier? 
NOW YOU CAN!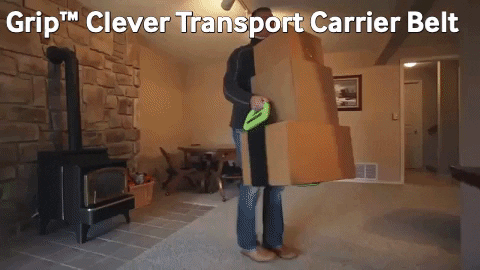 Grip™ Clever Transport Carrier Belt is a single or two-person lifting device that allows carrying heavy and bulky objects more convenient. This encourages proper body mechanics and leverage to make lifting objects safer and easier. Move boxes, mulch, soil, plants, mattresses, furniture, firewood, storage bins plus so much more!
Grip™ employs leverage which makes the items being carried seem 66 percent lighter. This makes it much easier to go up and down a flight of stairs, and to turn around corners.
DESIGNED FOR SAFETY
Grip™'s patented, ergonomic design helps reduce the risk of injury by employing proper body mechanics and leverage to make lifting objects safer and easier.
LIFTS A RANGE OF ITEMS
From moving furniture, and mattresses, to carrying smaller items like firewood, mulch or boxes, Grip™ easily lifts it all. Its versatility makes it great for moving, but also perfect for working in the yard, around the house or in the office.
EASY LIFTING HANDLE
Unlike other lifting and moving equipment that digs into your forearm, shoulder or back, this strap provides the function and convenience of handles to any object, making your move faster and smoother.
ADJUSTABLE STRAP
Grip™'s extra wide 6-inch strap is simple and easy to use, adjusting quickly from 3 feet up to 6 feet long allowing the user to lift items weighing up to 800 lbs. from their desired height.
ONE OR TWO PERSON LIFT
There's no need for a dolly, hand truck, a complicated harness, or uncomfortable straps. The Grip™ can be used by one person or two people, so even when you don't have an extra hand, you can still lift that heavy object on your own. Packaging may vary.
Specifications:
Product opening length: 

1.7 meters

Webbing width: 

10CM

Material: 

Non-woven fabric

Maximum load capacity: 

100KG

Handle width: 

15CM