Long hours behind a computer causes poor posture and neck pain over time.
It's frustrating and annoying to have a stiff and painful neck. It lowers your productivity and it impacts your quality of life.
This Pain Relief Neck Massager lift vertebrae to relieve nerves that are being pressed, with a powerful yet gentle motion that would normally require an expensive visit to an expert chiropractor or therapist. Pain disappears and healing begins as blood circulates faster through the damaged area. You get more oxygen and healing power to all your spinal muscles.
FEATURES:
MADE TO LAST – It is made from the finest materials. Thanks to its robust construction, the home cervical traction unit won't leak air, tear apart or break when you need it the most.

MADE FOR OPTIMAL COMFORT – Soft and fully adjustable, the neck massager support can be inflated for optimal comfort around your neck. This creates optimal spine alignment, which relieves tension in your nerves, back, spine and shoulder.

EASY TO USE NECK TRACTION PUMP: No assembly required. Step-by-step instructions ensure you're getting the best use of this neck massager so that your experience could be as comfortable as possible.

SMALL ENOUGH TO TAKE ANYWHERE: No matter where you are on stiff days, this neck massager will help you experience spinal traction wherever you go. Soft, lightweight and small, it will fit in your suitcase, purse, car or backpack, or take away in a convenient nylon carry bag.
Supports:
Herniated, compressed or bulged discs
Back and spinal decompression
Pinched Nerves
Neck, head, or shoulder pain
Cervical neck spasms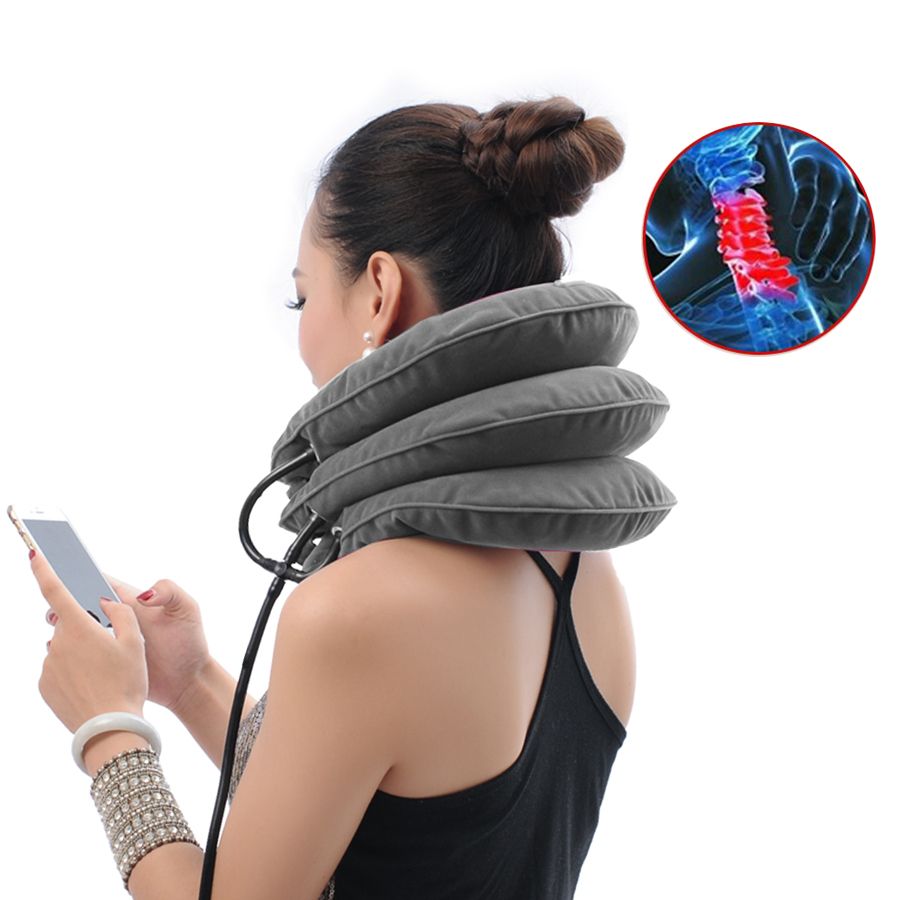 How Does It Work? Simple & Safe!
Place the Traction Device around your neck.

Inflate the brace pillow with the hand pump.

Enjoy the feeling of a fully stretched neck in seconds!

Use the unit 2-3 times a day for 20-30 minutes a session to get amazing results!