Decorate Your Party Place With Your Very Own Glasses!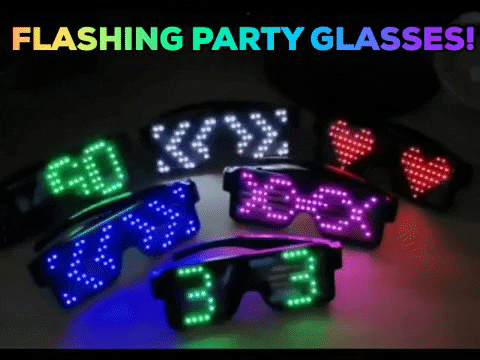 These 8 Mode Flashing LED Party Glasses are the ultimate party accessory to spice up your outfit! It's impossible to stay unnoticed while wearing these glasses, perfect to wear to a festival, party, concert or any other event.
When fully charged it can last for 6 hours, so get your party started the whole night long!
GET LIT AT BIRTHDAYS, CONCERTS, RAVES AND MORE: Make your spectacle spectacular with light-up specs!
Features:
Made of lightweight material for comfortable usage.
The glasses contain an ultra long life battery (180mAh) and can be used up to 500 cycles or more.
The charging status displays a red light and the charging is completed automatically.
Use:
When charging, directly link to the USB interface. At this time, the red light is on, indicating that the glasses are in the charging state; when the charging is full, the red light is automatically turned off.
Press the switch button for a long time, and press the gear position again to switch the glasses pattern. The 8 gear positions are respectively 8 patterns, and the long press is closed again.
Fully charged, LED lights can be used continuously for about 6 hours.
After fully charged, please cut off the power in time to help protect the battery life.
Specs:
Light Color Optional: Red, Blue
Light Source: LED
Number of Beads: 164
Lumen: 0.1lm
Input Voltage/Current: 5V 1A
Power Supply: 180mAh Built-in Polymer Battery
Charging type: USB interface charging
Size: (L)X(W)X(H) 155x150x52mm /6.10"x5.90"x2.04"(appr.)