This simple, compact and sleek tool can replace your entire toolbox. This is the tool of the future.
With this all-in-one Cordless Electric Screwdriver, you'll be able to easily repair your phone, tablet, glasses, personal computer, and more. Coming with a total of 56 screw bits, this universal screw set can be used to fix any item in your household.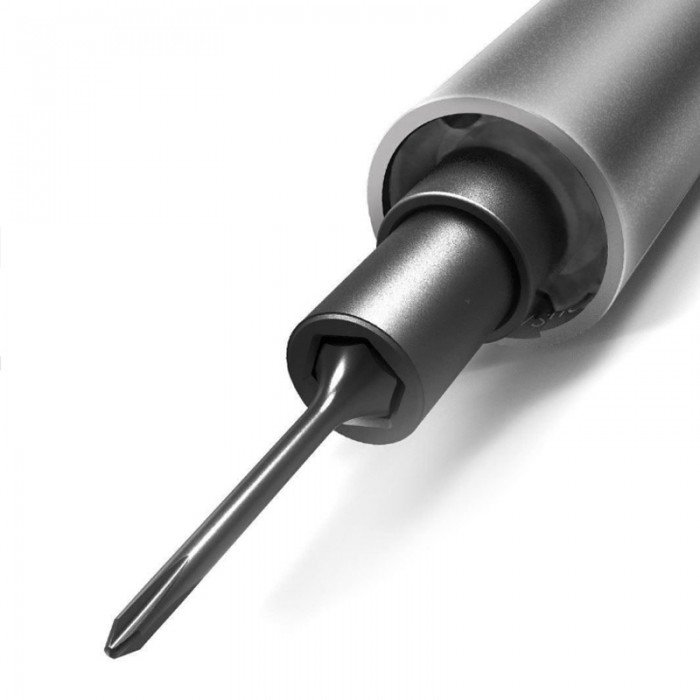 It has 200RPM load-free rotating speed which is totally power enough for your electronics devices repair work. With Slim aluminum alloy housing with pen shape design, just like holding a pen when you using it. 
For extra usability, you'll be able to use this gadget at both a manual and electric operation mode. Thanks to its built-in LED light, you can use it effortlessly in dark environments. 
FEATURES:
LED lighting and lithium battery powered functions
Highest driving speed screwdriver up to 200RPM load-free which is totally power enough for your electronics devices repair work such as a smartphone, RC drones, joystick, computer, camera, etc.
With 10400 rechargeable lithium battery provides, screw or unscrew driving power with a manual and automatic working mode, maximum torque up to  0.15/3N.m torque ensure high working efficiency.
Carefully choose 56pcs S2 steel screwdriver bits including Phillips, Slotted, Hex, Trox, 5-point, Y-type, Square, Triangle, U-type to compatible with most electronic devices.
Slim aluminum alloy housing body with pen shape design, easy to grip and portable.
Also includes the wow pad, suction cup, screwdriver base, magnetizer, and magnetic portable case enable you easy to carry and use.
PRODUCT DETAILS:
Material: S2 Aluminum Alloy

Input Voltage: D.C 3.7V

Battery Type: 

Lithium-ion Battery

USB Charge Type: Micro USB

Speed: 200r/min 

Bits Size: 4x28mm / 4x45mm