It is very important to rest in a proper sleeping position. For that, it is important to pay extra attention to the natural curves of our spinal column. This Knee Pillow Posture Supporter will help you to align your hips while relieving pressure in the lower back and hips.
The high-quality super soft memory foam material molds to your body. Moreover, it has a multi-use ergonomic shape to better accommodate your body in 3 different positions: between your knees, between your calves, and under your ankles. 
The built-in stretchy strap to secure the pillow and prevent it from moving while you sleep. When dirty, the cover can be unzipped and machine washed.
This pillow is ideal for anyone who needs extra support and seeks a better sleeping position as it promotes spinal alignment, improves blood circulation, reduces stress in the knees and prevents the hips from rotating during your sleep.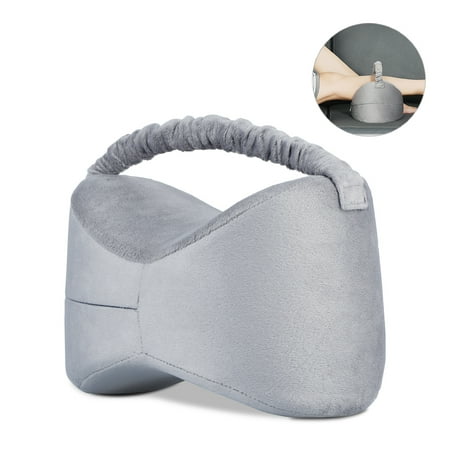 FEATURES:
This Pillow allows you to place it between your legs or knees while side sleeping, elevating your legs, calves or knees or you can place it under your waste for that much-needed waist support.
Made from high-quality antibacterial memory foam materials, the pillow offers a high degree of adaptability to the unique shape of your body.
Never get worried about how easy it is to clean this pillow; it has a zippable cover that makes it easy to maintain, remove and have it machine washed.
The elastic band designed for different groups of people prevent knee pillow droped off during your deep sleeping and the knee upper and lower sides come with perfect U-arc, it will be better to fit your legs.